Pet Grooming Studio Academy 
Dog Grooming School Review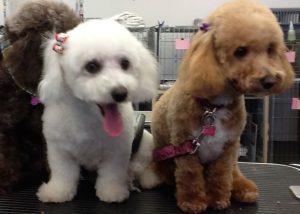 It gives me a great pleasure to write this letter of recommendation. I have graduated from the Pet Grooming Studio Academy completing both level 1and level 2 programs.
 I highly recommend the Pet Grooming Studio Academy to all prospect (want to be) groomers. The instructors' knowledge, skills, abilities, experiences and expertise provided me with a curriculum that exceeded my expectations. No matter how large or how small a class - just call out for an instructor and they are by your side ready, willing and able to assist you every step of the way.
This pet grooming school inspires confidence with their effective and professional manner and teaching skills.
I could not have asked for more knowledge or better education than the one I received at the Pet Grooming Studio Academy.
With gratitude and appreciation,
Sincerely,
Anna V. - now a professional pet groomer
The Dog Grooming Courses were excellent hands-on training. Information was presented in a logical sequence and appropriate rate as our skills improved. The staff is very knowledgeable and approachable when questions arose. I would recommend this school to anyone wishing to pursue a profession in dog grooming.
Thank you for providing me the opportunity to develop and enjoy the skills for dog grooming.
Sincerely,
Meg D.
Time passed by so quickly.
I appreciate all the instructors' kindness and teaching. I can groom and style most breeds fairly well now in spite of starting from zero knowledge and zero experience of grooming work.
The lesson was good for building my confidence because I had to groom not only "good dogs" but also many dogs with different characters and hair conditions. Now I know which techniques to use on all those dogs and what I have to be careful of when handling those dogs.
I appreciate the lectures as well as the practical skill lessons, dog's diseases, what to do in emergency situations, how to stop the accidents during grooming, the effective ways to use grooming tools, how to give advice to the dog owner, and much other useful information in this profession.
Now my goal is to cut the time I am taking to groom dogs. I heard the professionals groom and style several dogs a day. It's still a long way to attain that level but I feel I can do that in the future with more practice and having more experience.
My number two goal is to improve my scissoring skill. It's tough to get employed without good scissoring techniques in my country. So I want to become better at scissoring. My hands still shake sometimes and it is not easy to have a smooth finish. I need more improvement.
All in all the instructors are very helpful and I really enjoyed the grooming lessons here and learned a lot.
Thank you.
Miyou I.
In the beginning, I worried that I could learn as quickly as others, but it was an immediate relief to know everyone learns different things at different paces.
It made me very happy to go right into the hands-on work and to work with the different dogs that came in daily. I was given every opportunity to work with different breeds and dogs of every size.
I was surprised that there were many ways of styling one breed. In fact, there were so many other things I learned throughout the course, I did not even imagine how much there was to learn about pet grooming before I came here!
What I liked about the course was working with the dogs every day, and seeing the dogs come in some so matted and having them leave looking, smelling, and feeling clean. It made me feel so accomplished.
I honestly can't wait to start working with my newfound knowledge and expertise.
Thank you, everyone, at Pet Grooming Studio Academy.
Donna Y.
Thank you very much for the great experience you gave me on my new journey.
I feel very confident in the fundamental work and I feel I am a master at that now. The lecture part of the lessons was my favorite because It was so comprehensive and I learned a lot!
For the Drop-coated pet grooming part, I know I can handle that very easily.
And all of those above are just the result of your support and time you spent for me and all the other students which I appreciate a lot!
Thanks to all the teachers,
Love you all !!
Mary Y.