Speeding Up Groom: Getting Into The Flow
In the business of grooming, time is money. The average dog groomer will spend about one to two hours grooming a single dog. That may not be possible right away for the novice groomer, but speeding up groom is something to be mindful of when working towards improving your craft. There are many factors that determine how to get faster at dog grooming, but the biggest factor is the skill level of the groomer. If you're looking for ways to shave some time off of your next grooming session, there are a few things you can do.
Today we're going to go over the basics of how to speed up your next grooming session and keep those dogs coming in at an even pace!
Speed Isn't Everything
It may seem counter to this article, but your major goal should not be about speed. In order to be a successful dog groomer, make sure the end result satisfies your clients. If they're not happy so of their dog's groom and need it fixed, later on, that's an inefficient use of time. Rushing through a groom can also cause injuries to the dog. So be sure to keep quality and safety in mind.
Speed comes naturally to groomers when they gain confidence in each area of their work. Once you have clarity about technique and execution, those things become easier and take less time to do.
For Speeding Up Groom, Set Up A Routine
The best way to improve on timing is to have a set routine for every dog that you groom. If you're someone who likes to do the fundamentals (nail trim, ear cleaning, brush-out) first, this is the first thing you should do when your dog is on the table. It's also best to decide when to clean up your workspace during the groom. For example, if you pre-clip your dog before the bath, would you clean up your table before or after their bath? What works best for your flow or workspace?
We easily wasted time when we're unsure of what to do next. When you have a routine, you eliminate this problem and your workday goes more smoothly.
Be Organized
Groomers have so many tools, equipment, and products around the salon. So it's important to know where everything is at all times. Once you use something, always put it back in its right place. Instead of piling up your clipper blades in a bag or container, find a good organizer at the hardware store. Some grooming equipment stores also sell blade and scissor organizers too. Keeping an accessible and organized workstation is key to grooming. It's also fun to organize your tools!
You'll find that with the right routine and a little patience, you can have a stress-free grooming experience. If this article has inspired you to improve your grooming regimen or customer service, please let us know! We would love to offer our expert advice on how to maintain healthy animals and happy clients. Let's make some changes together!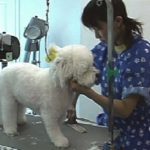 Take A Step Forward To Do What You Really Want To Do -Pet Grooming Few people can confidently say they're happy with their current life…
Read More